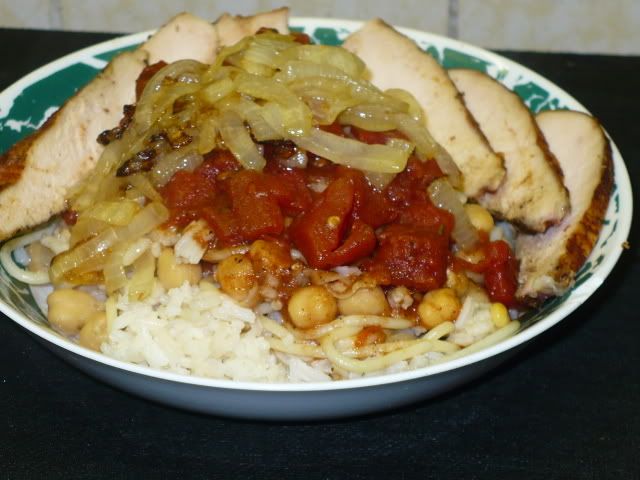 I was watching an episode of Anthony Bourdain: No Reservations the other night and became fascinated with a dish on the show. It was an Egyptian dish called Kushari. Basically it is their version of fast food and there are hundreds of places that sell it. It is a mixture of rice, pasta and lentils topped with a spicy tomato sauce and sauteed onions. Deceptive in it's simplicity, this dish has some complex flavors and it is truly satisfying.
Not having a clue as to how to make it, I scoured the internet for a recipe and came up with this one from Earthyrecipe.com.
Kushari (Lentils, rice, and macaroni mixture)
Kushari is often referred to as "Egyptian chili", and is a specialty of street vendors in Cairo.
Ingredients: 2 cups cooked rice 2 cups cooked pasta (such as macaroni or penne) 2 tablespoons vinegar 1 teaspoon ground Cumin, divided ½ teaspoon Garlic Powder 1 cup cooked lentils 1 can (15 ounces) crushed tomatoes 1/2 cup water 1 1/2 tablespoons sugar 3/4 teaspoon Ground Cinnamon 1/2 teaspoon salt 1/4 teaspoon crushed pepper 2 medium onions, thinly sliced (about 2 cups)
Instructions: 1. Combine rice and pasta; spoon into bottom of shallow serving platter. Keep warm. 2. Whisk together vinegar, 1/2 teaspoon cumin, and garlic powder in a medium bowl. Add cooked lentils and stir to combine. Spoon over rice and pasta. 3. Combine tomatoes, water, sugar, cinnamon, salt, remaining 1/2 teaspoon cumin and red pepper in a medium saucepan. Cook over medium heat about 5 minutes or until heated through, stirring occasionally. Spoon tomato mixure over lentil layer. Partially stir tomato mixture into other layers, but do not completely combine all layers. 4. Sauté onions in 1 tbsp oil over high heat until browned and starting to crisp. Scatter over top of the kushari and serve.
Now being who I am, I improvised with what I had in the house. I used Garbanzo Beans instead of lentils and spaghetti instead of macaroni. Nothing to severely alter the taste or texture but purists (if there is such a thing a kushari purists) will probably point out that it isn't traditional. You will also notice swome smoked chicken in the picture. Sorry, I'm not a vegetarian.
Anyway, I recommend that you try this dish at home. I think you will be pleasantly surprised.
Enjoy!
Bigmista
The Survival Gourmet