MrsMista and I were on our way to a meeting the other day and we were both hungry. We were passing thru Gardena, CA and I noticed a Golden Bird sign. MrsMista is a huge fan of Golden Bird chicken so we decided to stop. Golden Bird is a franchise here in California and nowadays it is usually paired with another restaurant. This time it was the D.U.T.C. Grill, a creole/soul food establishment. I am something of oficianado of both creole and soul food (ok, I just eat them both a lot) so I was hoping they were up to the challenge.
They were.
I decided on the Oxtail dinner. It came with rice and gravy, 3 sides and a cornbread muffin for $11.99. I chose Sweet Potatoes, Mac & Cheese and Collards. This was definitely a bargain. My box was heavy when they handed it to me and I knew right away that I would have a hard time finishing it.
The Oxtails were very tender. The meat was falling apart and the seasoning went all the way to the bone. Th gravy was thick, hearty and little sticky. Just enough to make you lick your fingers. The Mac & Cheese was average. Not saying that it was bad, just that it was predictable. Nothing outstanding. The Sweet Potatoes on the other had were great! A good bit of cinnamon and very sweet. Some of the best sweet potatoes I have ever had in a restaurant.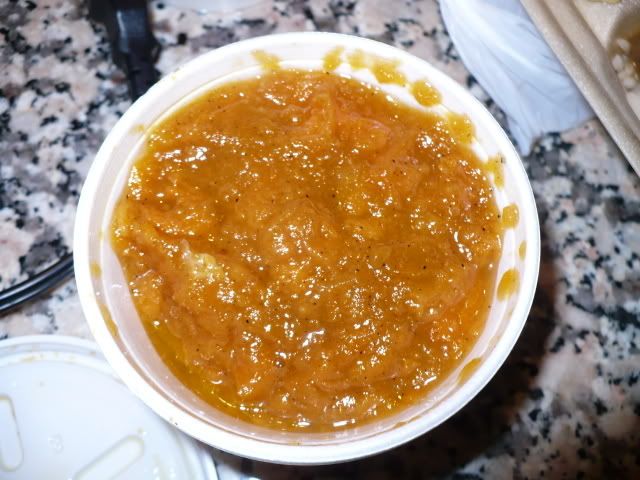 The collards greens were well seasoned with a hint of vinegar. The folks at the D.U.T.C. Grill know what they are doing. If you are in Gardena or are just looking for some of the best Soul Food in the Los Angeles area, I recommend that you stop on by. It's worth the trip!
D.U.T.C. Grill 14903 S. Western Ave Gardena, CA 90249 Phone: 310-715-6774
Enjoy!
Bigmista
The Survival Gourmet