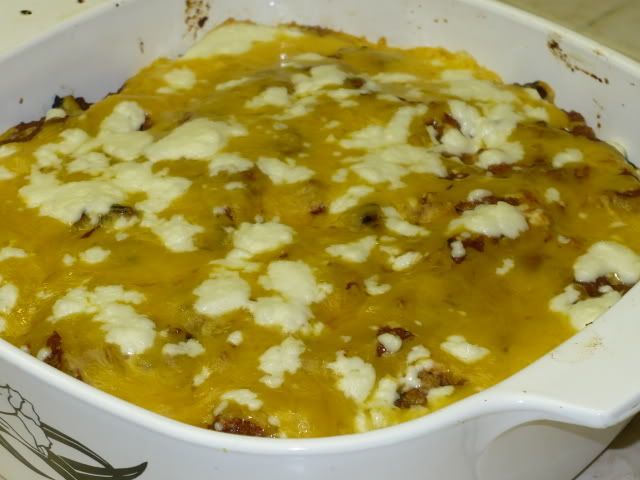 So the other night I need to make dinner but I didn't want to go to the grocery store because we were going away for the weekend. I need to improvise with what I had in the house. But that's what I do right?
So I took up the challenge. I looked at what I had in the fridge, freezer and pantry and came up with some Italian and Mexican ingredients. Fusion it is!! I call the dish I came up with Enchillasagna.
Here are the ingredients:
1 lb. Hot Italian Sausage, cut into small rounds 2 15 oz cans of diced tomatoes
1 tbsp Kosher Salt 2 tsp Black Pepper 1 tbsp Garlic Powder 1 tsp Cayenne Pepper 1 tbsp Chili Powder 1 tbsp Italian Seasoning
8-10 Corn Tortillas 8 oz Shredded Cheddar Cheese 6 oz. Queso Fresco Mexican Cheese, crumbled
Brown the sausage in a sauce pan. Crumble it with a spatula or a spoon. Remove the sausage from the pan. Pour in the tomatoes and add all of the seasonings. Puree (blend) with a hand blender and simmer over low heat for 15 minutes.
Warm the tortillas. (I usually do this on the burner on the stove but you can also wrap them in a damp towel and microwave for 15-20 seconds.)
Cover the bottom of a casserole dish with a layer of tortillas. Sprinkle half of the crumbled sausage on top of the tortillas. Spoon half of the tomato sauce on top of that. Cover with half of the cheddar cheese. Sprinkle half of the Queso Fresco on top of that. Repeat.
Put the casserole dish in a 350 oven for 20 minutes. Remove from the oven and let it rest for 10 minutes.
Serve and eat.
Enjoy!
Bigmista
The Survival Gourmet