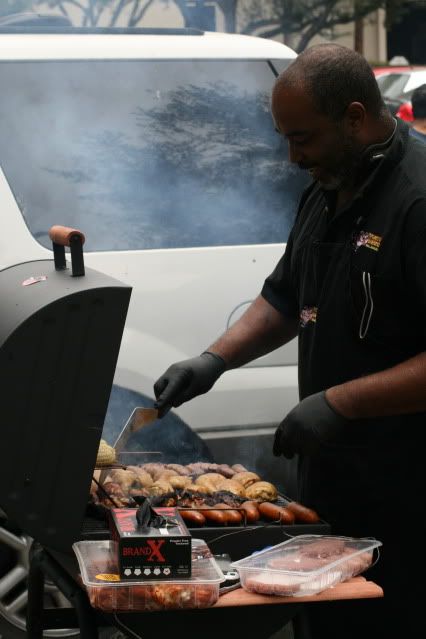 BIG MISTA HELPS GET YOUR GRILL ON Fresh & Easy partners with award-winning grilling expert to offer tips for the perfect BBQ
EL SEGUNDO, Calif. – Fresh & Easy Neighborhood Market is partnering with pitmaster and grilling expert Neil "Bigmista" Strawder of Bigmista Barbecue to share tips for this 4th of July holiday. He is a resident of Long Beach, California-and is a food vendor at various farmers market's across Los Angeles. He is sharing some of his award-winning barbecue tips that will help you impress family and friends at your upcoming cookouts.
"Anyone can put a piece a meat on a grill," says Bigmista. "But if you want that tender, melt in your mouth flavor, there are a few simple techniques that will guarantee a delicious barbecue."
1. Grill – Buying an expensive grill will not make your barbecued food taste better. Find a kettle grill at a local supply or hardware store for less than $50. This classic grill distributes heat more evenly and when the lid is on, it holds in the flavor-enhancing smoke from the grease or smoking wood added to the charcoal fire.
2. Fire Management – You don't need a big fire to barbecue. Use 15 coals for chicken and 20 coals for steaks and burgers. Never use lighter fluid as it leaves a chemical taste on the meat. The secret to a great barbecue is a chimney grill starter, which is a tool to heat the coals that is also available at supply or hardware stores. Place the coals on the top chamber and place newspaper on the bottom chamber. Light the newspaper with a match and in fifteen minutes the coals are ready to use.
3. Coal Placement – Place all coals on one side of the grill. Slow cook the meat with the indirect heat on the opposite side of the grill. Then crisp the skin with the direct heat. This allows for meat to cook thoroughly, preventing a burnt outside and a raw inside.
4. Wood Chips – Add hickory, apple-wood, cherry-wood or mesquite-wood chips to the coals to infuse flavors into the meat. Wrap a hand-full of wood chips in foil, poke holes through the tent and place it on top of the coals.
5. Brine – To get chicken as tender and juicy as possible, Bigmista recommends soaking it in brine which is made up of: 1/2 cup salt 1/2cup brown sugar 1 tablespoon allspice 2 tablespoons garlic powder 1/2 gallon of water Put all ingredients in a large plastic bag or a 16-quart pot and soak chicken for up to four hours in the refrigerator. Discard the brine and then rinse the chicken, pat dry with paper towels, and rub it with a flavorful marinade.
6. Savory Rub – A basic rub that can be used on any type of meat with great results is created by combining the following ingredients: 4 parts kosher salt 4 parts garlic powder 2 parts black pepper 1 part cayenne
7. Pineapple Coleslaw – Bigmista is sharing the recipe to his very popular side dish that compliments any barbecued meat. This pineapple coleslaw is a guaranteed hit at cookouts. 1 bag pre-shredded cabbage 1 can crushed pineapple 1/2 cup apple cider vinegar 2 tsp salt 2 tsp black pepper 1/4 cup brown sugar Pour the juice from pineapple into a bowl. Add the vinegar, salt, pepper and sugar. Mix and set aside. This is the dressing. Put the pineapple in a large bowl with the cabbage. Pour in the dressing and toss well.
So when you can't make it to one of the markets for some of Bigmista's award winning barbecue check out Fresh and Easy for your grilling meats and sides, they have you covered. A few customer favorites include: o fresh&easy Grill Pack - over 4½ pounds of quarter-pound beef patties, chili-seasoned chicken thighs or drumsticks and Italian pork sausages $5.99* o Buxted Pork Spare Ribs $1.59/lb* o fresh&easy BBQ Macaroni Salad $3.99/30oz* o Taurino Beer $12.99 for two 12 pack bottles* o fresh&easy 9" Apple Pie $3.99 each* *Promotional prices valid from July 1st through July 7th while supplies last. Promotional price for Taurino beer is valid when purchasing multiples of two.
About Neil Strawder, a.k.a. Bigmista Award winning and seasoned pitmaster/griller, has been competing in California barbecue competitions since 2005. He has won numerous awards for perfecting his briskets, pulled-pork and ribs. His catering business, Bigmista's Barbecue, has a following at Farmer's Markets around Los Angeles County. To contact Neil Strawder, visit his Web site www.bigmista.com.
About Fresh & Easy Neighborhood Market At roughly 10,000 square feet, Fresh & Easy markets are smaller than the typical supermarket to give customers a faster, easier shopping experience. In addition to fresh, high-quality prepared meals and produce, Fresh & Easy offers everyone's favorite national brand products and household items, all at budget prices. More information regarding Fresh & Easy Neighborhood Market can be found at www.freshandeasy.com/blog.